After Debra Davis's fall 2003 - Feature Presentation
at Northern Michigan University

NMU OUTlook
winner of the
"Diversity Program of the Year Award"

at the NMU leadership Banquet
April 16, 2004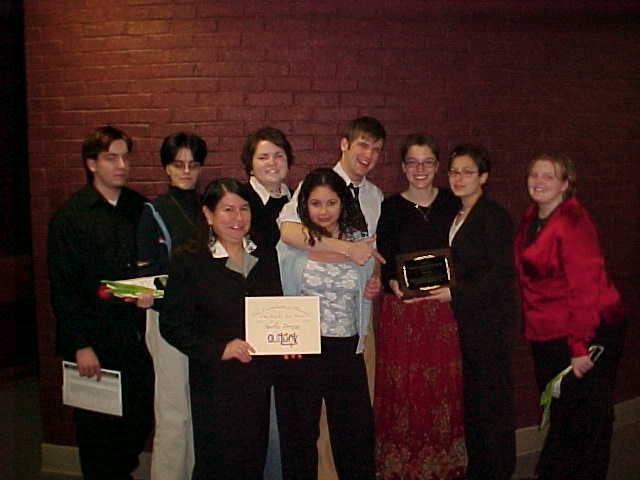 NMU OUTlook members at the 2004 Leadership Banquet
with their "Diversity Program of the Year Award"
April 16, 2004


_____________________


E-Mail from Randi Shernam on April 17, 2004

Dear Debra,

I wanted to update you on the impact you had on Northern Michigan Unviersity and what your presentation started. This Monday will be the first meeting for the first ever transgender support group in the U.P. and we could not have done it without you. After you educated the students and community at large there was no turning back, and I would like to thank you. I also wanted to let you know that OUTlook won the diversity program of the year at our leadership banquet last night. We recived the award for your presentation! I have attached a photo of our group with the award.

Thanks again for helping NMU and the Marquette community to achive this amazing landmark.

Yours Truly,
Randi Sherman
Northern Michigan University, OUTlook

______________________



Debra Davis
Gender Education Center
www.debradavis.org
P.O. Box 1861
Maple Grove, MN 55311
gec at debradavis.org

Dedicated to transgender
support, advocacy and education.