Article appearing in Lavender Magazine
June 5, 2005



2005 Pride Award Winner
Debra Davis
Nationally renowned
transgender icon, educator & a true pioneer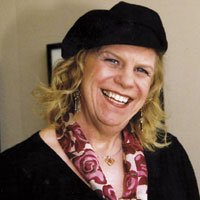 photo by Sophia Hantzes
Pioneers, by definition are the first - to cross a border, breach a barrier, or leap into heretofore intellectual terra incognita.

In 1905, Albert Einstein published five seminal papers that overturned our concept of the universe.

In 1955, a tired Rosa Parks refused to yield her seat on the bus.

In 1990, Debra Davis started the Gender Education Center (GEC) to advocate for Minnesotans who identify as differently gendered.

The occupation of any new territory has far-reaching and often unanticipated effects for everyone who follows.

The ripple effects from Einstein and Parks have been discussed widely.

Davis's work, outside her home base, may be less known, but have made a huge difference in the lives of other transgender individuals, and, coupled with that of other trans pioneers and researchers across the country, is changing lives for the better.

Davis, Executive Director of GEC, was a high school Media Specialist who transitioned in 1998, and retired in 2001 after 32 years in public education.

If questioned, Parks might have echoed Davis, who commented, "I really am a reluctant activist. I'm an activist because of who I am. I just want to live my life as who I am."

But pioneers rarely feel they have choices. A moment arrives - an action is taken, a decision is made, and the world is changed.

At the time of her transition, Davis was, in her words, "surprised by the acceptance at my school. When I came out, it was not a big hullabaloo."

At that time, Davis said, "I'm the only out transgender librarian in the country in public education in a high school."

"The school district never wavered. My principal is great; my colleagues and the students, also. On the day I came out, there were 300 phone calls to the Minnepolis School Board's voice mail. Three hundred. And all of them were positive."

If all had continued in that fashion, if all went that well with every other differently gendered person, there would be no need for GEC or any other advocacy agency.

The "bathroom issue" arose when a single teacher objected to Davis's use of the women's restroom. The woman filed a complaint with the Minnesota Human Rights Department, and then to the Equal Employment Opportunity Commission (EEOC), targeting the school and Ms. Davis.

This particular issue is now a thing of the past for Davis, but not for many other trans people who also say: "I just want to live my life as who I am."

To this end, GEC has a powerful outreach program, touching literally thousands of people a year and giving over 800 presentetions in the last 15 years.

GEC's self-described mission: "We are involved with transgender education, outreach, and advocacy. We also work with youth who are questioning their gender and with helping professionals when they need help with gender issues."

While other transgender organizations address social and psychological needs of the transgender community, GEC has the specific goals of outreach, education, advocacy, and social change.

And all the accomplishments of GEC started with Davis, a true pioneer.
by E.B. Boatner