Article appearing in The Badger Herald
October 12, 2005



Davis addresses transgender issues

by Andy Kim

The Badger Herald
"UW's other daily student newpaper,"
UW Madison
Wednesday, October 12, 2005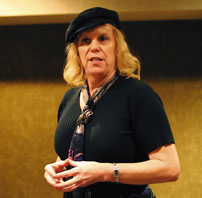 Debra Davis
Executive Director of the Gender Education Center,
at Memorial Union Tuesday night.

Haley Van Dyck / Herald photo


As part of National Coming Out Week, Debra Davis, executive director of Minnesota's Gender Education Center, spoke to University of Wisconsin students at the Memorial Union Tuesday night about her life as a transgender person and the importance of people feeling free to come out.

Davis decided to "come out" in May 1998 as a transgender librarian at Minnesota's Southwest High School and made history as the first successful transgender person to come out in secondary education.

"After a while, I decided that I'm going to stop lying to the people who only know the man," she said. "Then, I decided to come out."

Prior to coming out, she had lived two very different lives — one of which included kids and a wife of 26 years.

"Some of us live two very different, very secret lives. Not only did I have a closet; I had two closets, one for each person," Davis said. "So when I came out, I really came blasting out."

Throughout her lecture, Davis emphasized the importance of people showing their true identities and not being afraid to come out.

"Can you put it on the shelf for a while? Sure," she said, but added, "It'll come back. It's always there. It's always present."

Concealing a gender-identity secret is comparable to carrying a bag of rocks over your shoulders, Davis commented, and doing so can cause one to lie about almost everything.

"When I was hiding my [clothes], not all the boxes of tools in my garage contained tools," she said.

Due to the pressure in today's society to be "normal," Davis claimed transgender and transsexual people often try anything ranging from lying to suicide to hide their identities.

"About 50 percent of transsexual people have tried [committing] suicide," she said. "And 50 to 80 percent of transgender youth have thought about suicide."

Along with promoting the coming out of people around campus and the nation, Davis encouraged people to advocate change by getting involved with various community organizations.

"When it's time to make the change, you got to do it from the inside out," she said.

Whether the change is within an organization or within one's acceptance of himself or herself, Davis asserts that although the initial repercussions may be challenging, it is worth it. She added coming out was the "best thing in the world," and that she should have done it in earlier years.

Davis, who had obscured her transgender identity since she was a little boy, said now that she has come out, her "bag of rocks is getting pretty light."

Attendees appreciated Davis' surfacing of transgender issues to the public.

"I think the Debra Davis lecture was a great opportunity for students to learn about transgender issues in particular," Max Camp, a gay UW senior and student staff coordinator of the Lesbian, Gay, Bisexual, and Transgender Campus Center, said, "but also gender and gender-identity issues in a broader sense."

Nathan Figueroa, another gay attendee and student-services specialist of the LGBTCC, said gay UW students should feel encouraged to come out based on Davis' success as an openly transgender person.

"I think Debra Davis is a real inspiration for people during National Coming Out Day," Figueroa said. "If she can come out as a transgender person in her school in a national spotlight and have success, then coming out as a gay person at [UW] can't be that bad."